Winter weather is coming to an end in my neck of the Midwest, and as I pass through the front garden with a bit of a sigh, I see the neglect of winter along with the promise of spring. My plan this year is to do color gardening with mostly mostly purples and whites. I plant 95% heirloom plant seeds, which some people call wildflowers. This gardening means the world to me.
Let me explain. I like to pour my worries and cares into gardening. There is nothing like taking past negativity, a hi-strung nature, or even anger -- all things that darken the soul -- and harnessing them into a beautiful yard full of flowers -- new life. Along the way I help the bees and hummingbirds with mostly heirloom/wild plants to feed from. I spend up to two hours each morning tending to my garden. In the spring and summer it is my main hobby. Purples have a really calming effect for me, and so I'd like to have a sea of it in my garden this year.
These are the plants for the front garden I bought seeds for, which I will sow within the month. The only plants I grow that are not seeds are evergreens. I don't feel like spending the money on those anymore. I hope you like these affordable flowers I intend to sow, which I purchase mostly in bulk:
Purple Prince Zinnia:
I grew white Polar Bear zinnias last year. I had a great germination rate and a bevy of flowers. I love the full, lush look zinnias give the garden. I am excited about this purple shade. These plants get up to 3 ft. high.
Grandpa Ott Morning Glory:
I love this morning glory because it grows very well in clay soil (the native soil here) with no amendments. I have some trellises on the house I plan to fill up with these beauties. I did this last year too. This morning glory is a prolific grower and will give you maximum growth/beauty/effect for very little money. It grows very easily from seed. All you need to do is train the vines in the direction you want them to grow and easily trim it to size when you want to contain the growth.
Aubrieta Cascade:
I am so excited to grow this waterfall effect. This is the only hybrid/non-heirloom flower I am germinating on my property at all. I just couldn't resist how beautiful this looked.
Chinese Houses:
These are a flower I never knew of before this year. They are named after their distant similarity to the shape of some traditional Chinese homes. These flowers are so unique and such a nice shade of purple I had to try to grow them.
Gibraltar Candytuft:
This mostly lavender flower reaches only about 6 inches high, so I plan to plant it around my young weeping cherry tree. I think it's quite lovely.
Tall White Sweet Alyssum:
I grew this flower last year. It is highly satisfying because it blooms from spring until frost, and most of the flowers even survive below 32 degrees for a while. It is also highly tolerant of a variety of soil types including clay. Yayyy. The plant grows to about 12 inches tall. Although it is most common to use it as a border flower, you could literally full a whole garden with nothing but this flower. The seeds are cheap too when you buy them in
bulk
.
Hollyhock Mauritiana:
This flower is not only pretty but it is entirely edible. This is a mallow plant, which is related to the okra family. Just how okra has a gummy texture which is utilized in cooking, you take take the leaves of this mauritiana mallow plant and throw it in your soups and stews to get some good gummy thickening.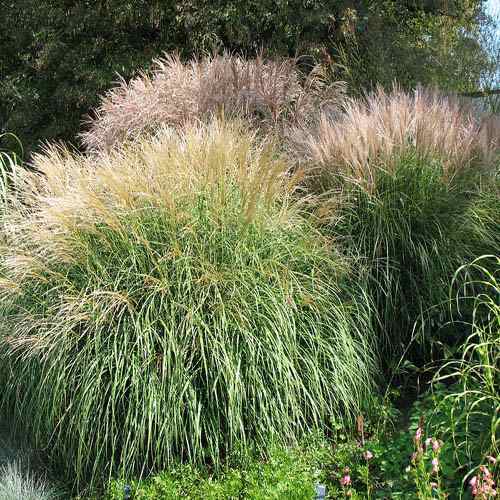 Call me crazy but you know how I love the idea of having total privacy around the house. These grassy monsters grow up to 9 ft. high. This seed is not an heirloom plant, but it is one of the largest privacy plants you can grow cheaply from seed within a few years.
Well, I hope you like these plants I am going to grow. I have my work cut out for me. I will be writing a post about the food I will be growing this year in the backyard. I might even stick a few edibles in the front yard to grow. People should really feel free to grow food in their front yards, but somehow it's been ingrained in us that people don't do that.
From my experience
morning glory
and
tall white alyssum
are the easiest high germination heirloom plants to grow if you are looking for a quick gardening solution. I hope you have success from your garden. Let me know how it goes!